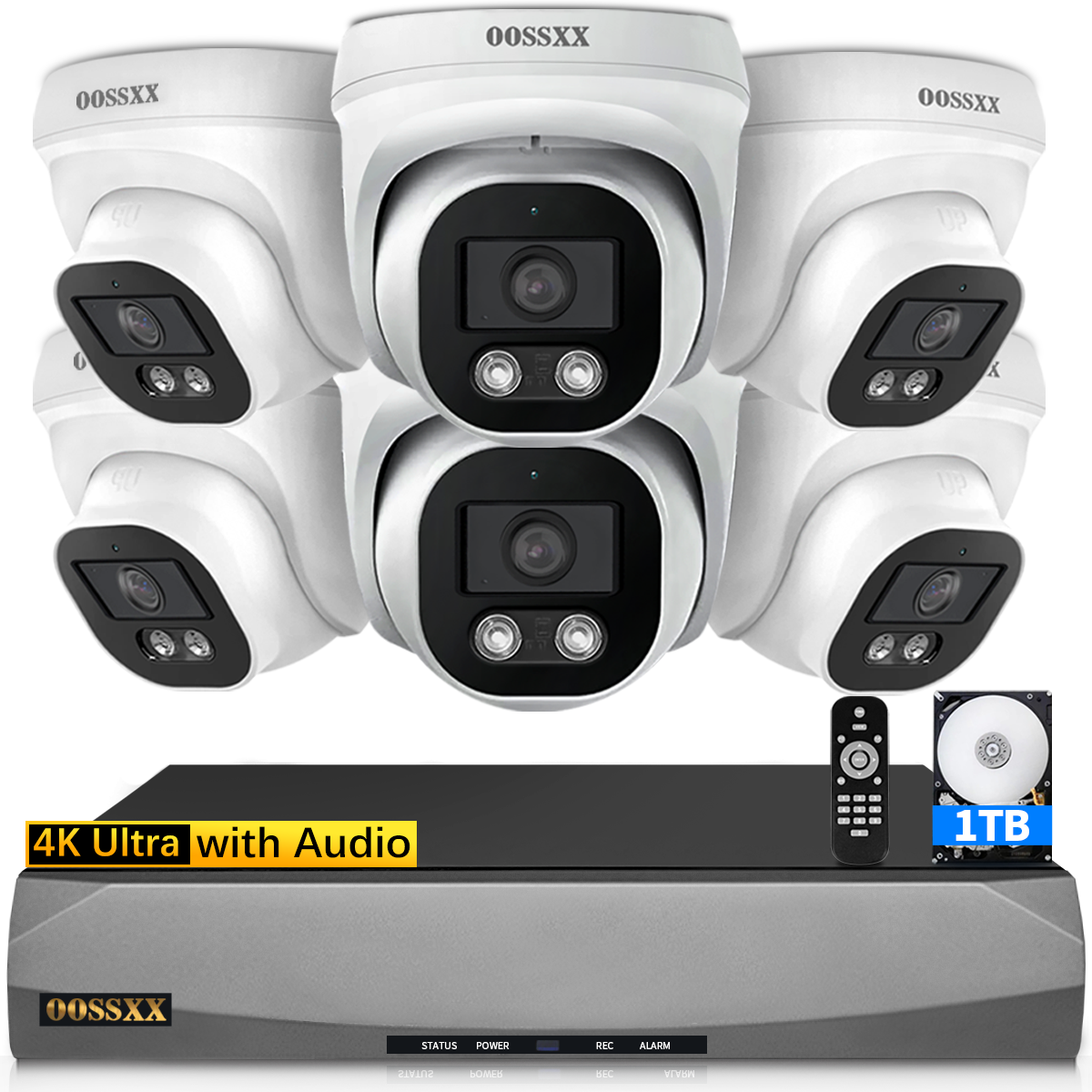 In the realm of security, the importance of a robust surveillance system cannot be overstated. OOSSXX is committed to delivering a comprehensive solution tailored to your security needs. In this guide, we'll take a detailed look at the various components that constitute a surveillance system, all from the perspective of OOSSXX's commitment to cutting-edge technology and top-notch security solutions.
**Front-End Surveillance Devices:**
**IP CCTV Camera Security System:** At OOSSXX, we offer state-of-the-art IP CCTV cameras that utilize advanced technology, allowing seamless integration into your network for remote monitoring and management. These cameras provide high-definition imagery and offer versatile installation options.
**Security HD Camera System:** Our high-definition camera systems guarantee exceptional clarity, enabling you to capture detailed images that leave nothing to chance. Whether for residential or commercial use, our HD camera systems are designed to provide uncompromising security.
**Wireless Cameras for Home Security System:** Embracing the convenience of wireless technology, our cameras provide easy installation and integration into your home security network. This wireless solution ensures that you stay connected and informed even when you're away.
**Home Security System:** We understand the significance of safeguarding your home, which is why our surveillance solutions are tailored to provide comprehensive coverage for residential properties. Our systems include a range of devices designed to secure every corner of your home.
**Wireless Security Camera with Monitor:** Seamlessly integrating monitoring and display, our wireless security camera systems come with monitors that allow you to keep an eye on your property at all times. The real-time feed provides peace of mind and quick response capabilities.
**Magnetic Cameras for Home Security Outdoor Wireless WiFi:** OOSSXX introduces innovative magnetic cameras that offer flexible placement options without compromising on security. With outdoor wireless capabilities and WiFi connectivity, these cameras provide reliable surveillance solutions.
**Wireless Security Camera for Home Outdoor:** Our outdoor wireless cameras ensure that you have full coverage of the exterior of your property. The cameras are designed to withstand the elements and provide clear imagery day and night.
**Complete Security System:** At OOSSXX, we pride ourselves on offering complete security systems that include all the necessary components to create a robust surveillance network. From cameras to control units, we've got your security needs covered.
**Wireless NVR Security Camera System:** Our wireless NVR (Network Video Recorder) systems offer seamless integration with your existing network infrastructure. This innovative approach allows for efficient storage and management of your surveillance footage.
**Campbell Cameras:** We're excited to introduce our Campbell series of cameras, designed to elevate your surveillance experience. With enhanced features and advanced technology, these cameras provide an unparalleled level of security.
**Back-End Surveillance Devices:**
Our commitment to a comprehensive security solution extends to the back-end surveillance devices that facilitate efficient monitoring, storage, and management of captured footage.
At OOSSXX, we recognize that the backbone of a surveillance system lies in the integration of front-end and back-end devices. That's why we offer a range of options that ensure seamless connectivity, optimal performance, and, most importantly, peace of mind.
**In Conclusion: Your Security Partner**
In today's world, ensuring the safety and security of your property is paramount. OOSSXX is not just a brand; we're your security partner. Our commitment to cutting-edge technology, versatile solutions, and customer satisfaction sets us apart. From wireless cameras to complete security systems, OOSSXX has your security needs covered.
Sample block quote
Praesent vestibulum congue tellus at fringilla. Curabitur vitae semper sem, eu convallis est. Cras felis nunc commodo eu convallis vitae interdum non nisl. Maecenas ac est sit amet augue pharetra convallis nec danos dui.
Sample paragraph text
Cras suscipit quam et turpis eleifend vitae malesuada magna congue. Damus id ullamcorper neque. Sed vitae mid a cosmo pretium aliquet an sedo delitos. Pellentesque nulla eros accumsan quis justo at tincidunt lobortis denimes loremous. Suspendisse vestibulum lectus in lectus volutpat, ut dapibus purus pulvinar. Vestibulum sit amet auctor ipsum. Proin molestie egestas orci ac suscipit risus posuere loremous.